* 1893, Mason, Bishop Leadbeater caught in pedophile scandal, Howard, Michael, "The Occult Conspiracy", page 108; Bishop Leadbeater was a high-ranking Freemason and pioneer of the Theosophical Society, New Age Mysticism, and the Liberal Catholic Church.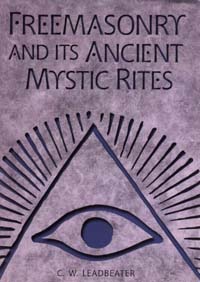 "MacGreggor Mathers was a supporter of the Jacobite cause and rumoured to be a member of another secret society known as the Jacobite Legitimists. This group claimed that the true heir to the Scottish throne was Princess Maria Theresa, wife of Prince Ludwig of Bavaria. They demanded home rule for Scotland and supported Irish nationalism. In February 1893 the House of Commons was in uproar when the banning of the society's official newspaper 'The Jacobite' was debated. A Belfast MP said that unless the journal was banned, loyalists in Ulster would rise against the British government.
The Jacobite cause also had supporters in the Theosophical Society including Bishop C.W. Leadbeater who was to be disgraced in a homosexual scandal involving young boys."
A high level Freemason in good standing in his Lodge and one of the co-founders of the Theosophical Society, according to researcher David Carrico in his documentary film "SRA and Secret Societies", he left the Theosophical Society to help found the liberal Catholic church; he authored several books on the subject, including "The Sacraments". Leadbeater also authored several books on Freemasonry, e.g., "Freemasonry and Its Ancient Mystic Rites", which is cited in the section on the Kabbala. [End Note: Some say the Jacobites were named after Jacques DeMolay of the Templars, in whose honor the Masonic DeMolay society is named.]
---
Freemasonry must die, or liberty must die." -- Charles G. Finney

---
FREEMASONRY IS KABBALISTIC, NOT CHRISTIAN!


VISIT TALMUDUNMASKED.COM FOR MORE INFORMATION.
THOSE WHO WILL NOT BE RULED BY CHRIST WILL BE RULED BY ANTI-CHRIST.
"Those who sin are slaves, and slaves have no rights."

-- Jesus Christ, John 8:34
---
"Qabalah is the heart of the Western Hermetic tradition; it is the foundation upon which the art of Western magic rests." -- Sandra and Chic Cicero, the authors of "The Essencial Golden Dawn: An Introduction to High Magic", page 96. Llewlellyn Publications "For by thy sorceries were all nations decieved."
Rev. 18:23
---
Disclaimer: Opinions posted on this website are those of the individual posters and do not necessarily represent the opinions of N.O.S. or Craig Heimbichner or their associates. All materials posted herein are protected by copyright law and the exemption for fair use of copyrighted works. Neither this site nor its content has been authorized by Craig Heimbichner, in whose honor the site is dedicated.

---
"THOSE WHO WILL NOT BE GOVERNED BY GOD WILL BE RULED BY TYRANTS."


-- Thomas Penn



NO KING BUT JESUS!
---
| HOME | MISSION | BIBLE | AUDIO | VIDEO | ALERT |
---
Prepared & presented by the N.O.S., Loveland, Colorado, USA
[HTML Generated by PALMTREE Copyright (c) John Paul Jones, 2004]
"Join me in battle, little children, against the black beast,
Masonry
..." Mother Mary [source: Father Gobbi,
Evolution & Freemasonry
]

"THEIR GOD IS THE DEVIL. THEIR LAW IS UNTRUTH. THEIR CULT IS TURPITUDE." Pope Pius IX, speaking of
Freemasonry
---

"Yea, ye took up the tabernacle of
Moloch
, and the star of your god
Remphan
, figures which ye make to worship them; and I will carry you away beyond Babylon." Acts 7:43 KJV
---
Wherefore come out from among them, and be ye separate, saith the Lord, and touch not the unclean thing.." (II Corinthians 6:18 KJV)
---
---
Joan of Arc on the Bohemians